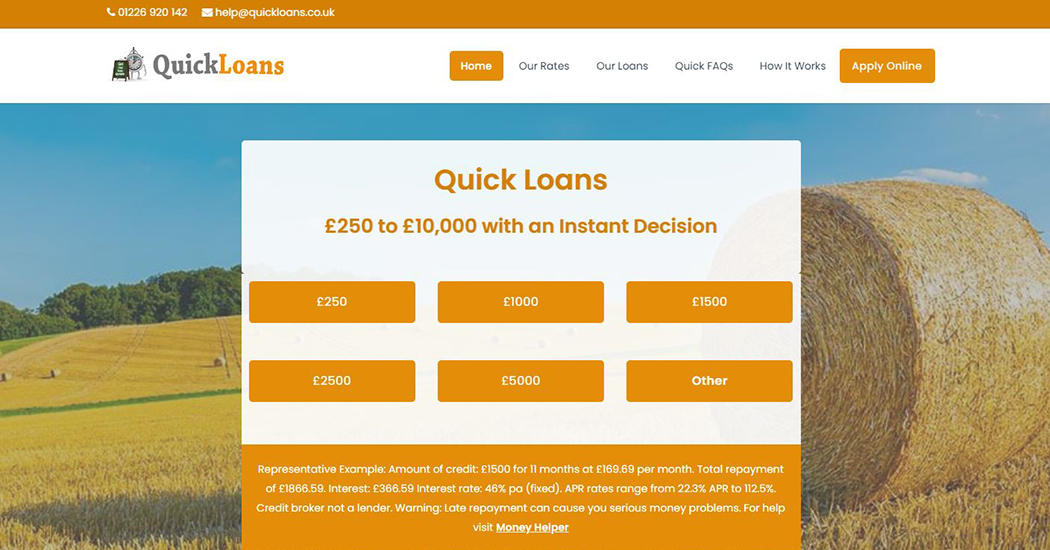 We first managed to obtain the domain name QuickLoans.co.uk in around April 2009. To the best of our knowledge, the domain name had been an unused domain name/brand held by the Co-Op since 1999.
One day in April 2009, about 10 fantastic loan names were due to expire. FastLoans.co.uk was one that we remember, but we have since forgotten the others.
In the morning, QuickLoans.co.uk expired and was caught by a friend of ours. He advertised the domain name for sale on several forums, but there were no takers. At some point, the offer came to us, and we bought it for the princely sum of £3,000. It seems cheap now, but back then, nobody outside the finance industry really knew how to monetize it. In a way, it was a gamble back then.
The Early Years
Quick Loans was our first finance site, so we didn't really have a plan, and looking back, it cost us a lot of money. In hindsight, not having a plan and not knowing the market probably cost us around £500,000 a year up until 2016.
Some of the mistakes we made at the time were embarrassing, but unfortunately, sometimes it's the best way to learn. We were literally happy for customers to click on AdSense ads that generated less than £1 per click when we could have sold those leads to buyers at £90+ per application.
On one occassion we received an email from someone with an Eastern European sounding name asking us to get in touch about selling our leads to them. It wasn't racism as such, but we certainly stereotyped them when we declined to reply. Eastern Europeans buying UK finance leads? Well, that's certainly a scam, and we didn't want to get involved in that.
Oh, how we paid for that attitude.
That lady who was reaching out to us was one of the world's biggest financial lead buyers, and has since gone on to become the biggest. She's also one of the nicest people you could hope to meet. At some point around 2014 we did reply. If we had have replied to that email in 2009, it would have been life changing, we didn't, and that's life.
Forget Adsense as a revenue stream, you can do much better

Don't stereotype people in business

Know your customer, find out who you are selling to before you start.
More Than Just Loans
Obviously, the site is about attracting people to apply using the site, but it also has some other interesting features.
Our Quick Loans News Section has caused a lot of controversy over the years. On numerous occasions, it has found itself in the glare of the national media. Sometimes, we enjoy pushing the media's buttons by presenting real arguments in ways that make them out to be hypocrites, and it doesn't always go down well.
The News section on this site is thought-provoking and pulls no punches. Several times, the FCA has asked for things to be removed, but those of you who know us know how that would have turned out.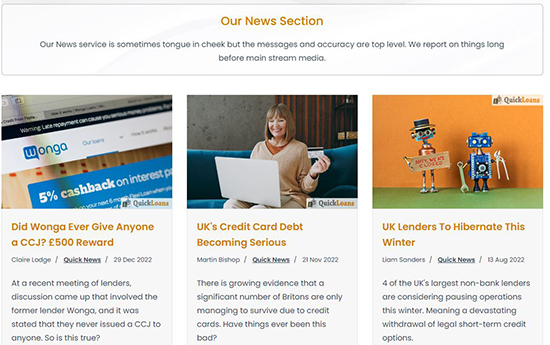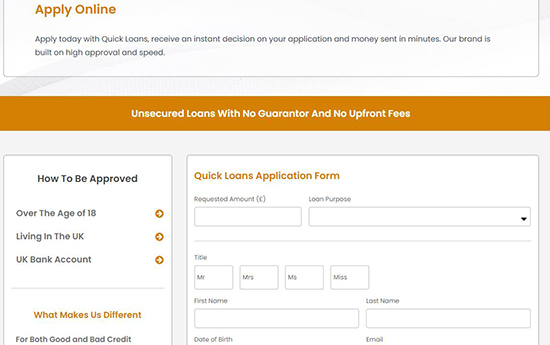 The Future For QuickLoans.co.uk
We don't see our future in personal finance. For a number of reasons, we feel that the time to exit the market is fast approaching. We prefer to be in non-regulated markets where unaccountable regulators have set no limits on our creativity. We could spend hours going on about regulators, but it would be boring.
When it comes time to sell, we will sell our entire personal finance portfolio in one big sale. Until then, we'll keep reporting and continue to take applications from customers wanting short-term financial solutions.

Quick Loans was our first and most important site, everything else grew from that.
Graeme Wingate Owner of GreyWing
We aren't actively trying to sell our finance sites, the mention of a possible sale will be one that most likely takes place within the next 5 years.